CALGAVIN and Research Institute of Industrial Science & Technology (RIST) Announce Exciting New Collaborative Partnership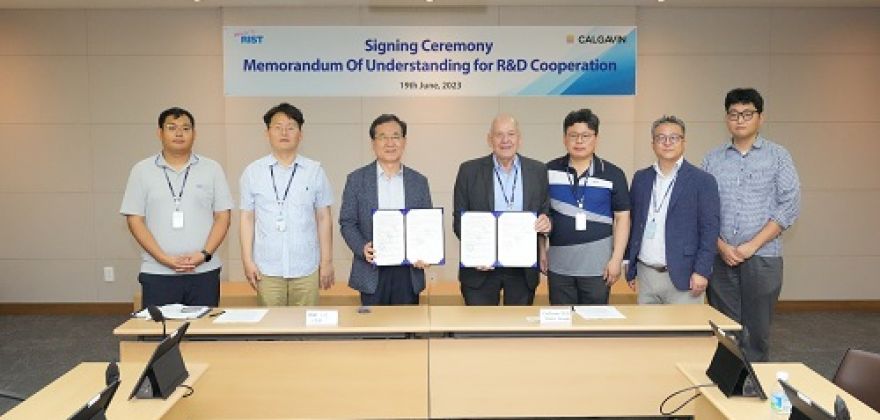 South Korea, June 19, 2023
CALGAVIN and the Research Institute of Industrial Science & Technology (RIST) have recently formalised their collaborative partnership through a momentous signing ceremony for an R&D Cooperation Memorandum of Understanding.
CALGAVIN, is delighted to announce its new collaborative partnership with RIST. This strategic alliance brings together two innovative parties, leveraging their respective strengths to push the boundaries of technology.
By joining forces, CALGAVIN and RIST are poised to address complex challenges and unlock new opportunities in the field of thermal processing technologies.
"We are incredibly excited to embark on this collaborative journey with RIST," said Martin Gough, Managing Director at CALGAVIN. "Together, we aim to accelerate the research, development and deployment of cutting-edge technologies that will provide more efficient heat exchange engineering solutions."
RIST's commitment to excellence in research make it an ideal collaborative partner for CALGAVIN. The synergy of the two will enable the creation of solutions that are not only technologically advanced but also tailored to meet the specific needs and challenges of today's rapidly evolving thermal process needs.
"We are excited to be working with CALGAVIN," said Dr Jaedal Lee, Principal Researcher at RIST. "This partnership aligns perfectly with our vision to drive innovation, enhance customer experiences, and create a more sustainable future. Together, we look to redefine what is possible in our industry."
Dongjun Koh, Research Director at RIST said "The collaboration will facilitate joint research initiatives, and the development of cutting-edge technology in the field of thermal processing, a very exciting time for us all".
Being a global collaboration, none of this would be possible without the essential contribution of Mr CY Yoon of EJJV Korea, and technical representative agent of CALGAVIN who has brought the collaborative parties together.