ACHEMA 2018 a Great Success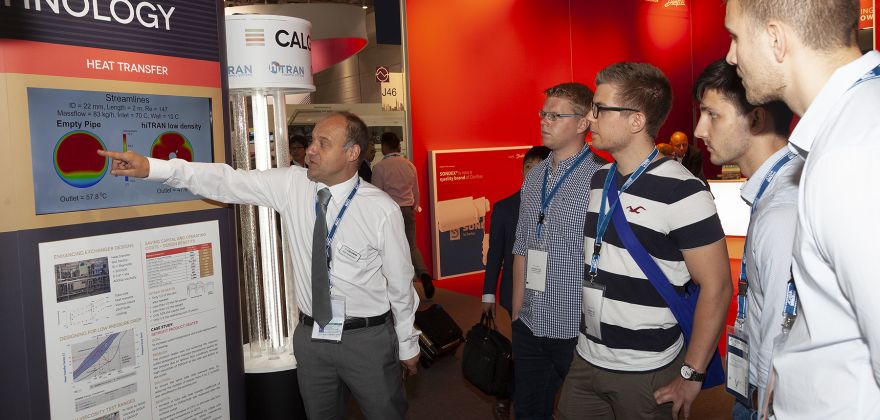 The latest edition of the ACHEMA Exhibition and Congress took place in Frankfurt am Main, Germany in mid June 2018, organised by DECHEMA.
CALGAVIN® had a new brighter design for their stand in Hall 4.0 for Thermal Processes and were ready to speak to many of the anticipated 170,000 visitors who descend on this 5-day exhibition held every three years. The main show stopper was the two lit tube displays showing various heat transfer phenomena using our hiTRAN® Thermal Systems.
Our new flexistands explained the different areas of heat transfer with accompanying videos, with the new installation video drawing a lot of attention, and an opportunity for our engineers to initiate a conversation.
With the full range of chemical related suppliers, the site extends over a kilometre in length from front to back with 17 different floors in use for the different exhibition groups.
The CALGAVIN stand had a full complement of engineers on-site with both English, German and Romanian spoken to meet the needs of the interested parties.
Many meetings had been arranged with our Technical Sales Manager Tom Higley, as well as other key meetings, which allowed more detailed conversations to take place.
Over the 5 days, we took enquiries from visitors from 35 different countries from around the globe, with 2018 bringing more meetings with end users than OEMs/fabricators (which had changed from 2015).
With the strong Research and Development arm of the company also in attendance, our R&D Manager Dr -Ing Peter Drögemüller was explaining these heat transfer subjects to chemical engineering students from Germany and other country universities.
After the wrap-up after the exhibition, and emails to interested parties, we now move onto our next major exhibition at ADIPEC 2018 in Abu Dhabi, UAE in November 2018.
The next ACHEMA in 2021 will be the 100th edition of the event which first took place in 1920.