ADIPEC 2018 a Roaring Success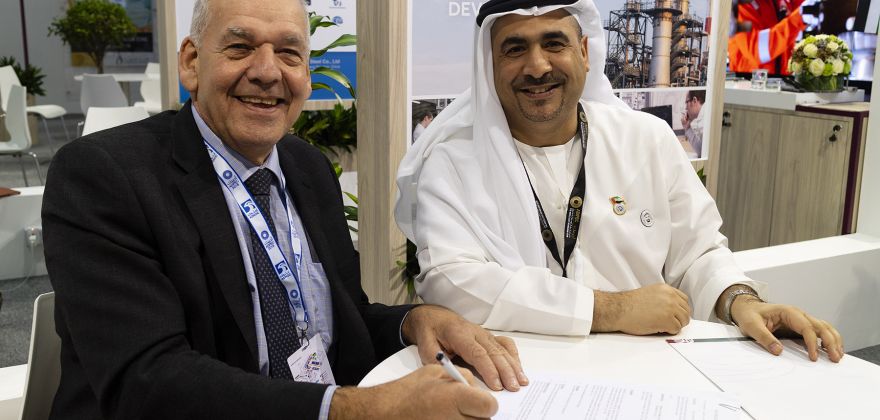 CALGAVIN® had a highly successful second ADIPEC (Abu Dhabi International Petroleum Exhibition & Conference) located in Abu Dhabi during November 12th to 15th 2018, based on the Arab Development stand, working with MEISCO. The stand had a high-quality shell scheme right on a main corridor, next to the large BP stand, and close to ADNOC.
Established in 1984, the Abu Dhabi International Petroleum Exhibition and Conference is a world-class business forum, where oil and gas professionals convene to engage in dialogue, create partnerships, do business and identify solutions and strategies that will shape the industry for the years ahead.
ADIPEC this year attracted over 145,000 trade professionals to the 2,200+ exhibition stands in 15 halls, from over 60 countries, while 900+ industry leading experts shared their knowledge and understanding across the event's line-up of strategic and technical conference sessions.
We were delighted, at ADIPEC 2018, to sign the contract between CALGAVIN Managing Director Martin Gough and MEISCO Managing Director Mr Salah Al Nuwais to represent CALGAVIN in the United Arab Emirates.
The CALGAVIN stand showcased a selection of the company's engineering services including Design Service, CFD, Air Cooler Troubleshooting as well as the companies turbulator technology hiTRAN® Thermal systems.
The exhibition visitors were introduced to the range of services on display and provided with detailed information about the company and its activities. In addition, a number of business meetings and negotiations took place, both on and off the stand, during the days of the exhibition to discuss current and potential cooperation with existing and forthcoming projects.
As Alex Codreanu of CALGAVIN commented, "The first impression that you get from ADIPEC, is that you cannot believe the thousands of suppliers catering for so many oil and gas professionals, in both upstream and downstream fields."
Being a returning exhibitor at ADIPEC granted both the enthusiasm and hope of what the exhibition has to offer. It has been an excellent opportunity to meet many of our existing, and potential customers, that don't often get the chance to attend the European exhibitions. Along with highly organized people across all 15 halls, the event showcased a very professional stance.