Martin Gough becomes President at 55th Heat Transfer Society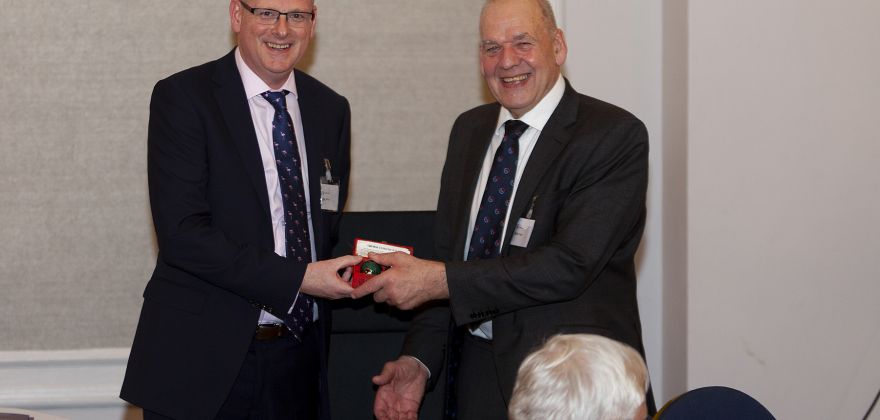 The 55th UK Heat Transfer Society dinner took place in the Grand Connaught Rooms in London on 29th March, and CALGAVIN® took a table at the event as usual, with the extra benefit of seeing MD Martin Gough becoming President.
The Heat Transfer Society was founded in 1964 by a small group of heat transfer engineers working in London. They represented the major UK contracting and manufacturing companies and the early meetings were of a purely social nature. They soon began to discuss work and their heat transfer problems and started technical forum presentations on a wide range of topical subjects. An executive committee was formed a year later with a Chairman and a President (elected annually).
The event this year was started, after an introduction from new Chairman David Norton, with a eulogy to the late Prof. Geoff Hewitt, given by Dr Francesco Coletti.
Then the room of over 100 guests sat down to enjoy the splendid meal and conversation.
After the meal David Norton introduced the new President Martin Gough (CALGAVIN Ltd) who gave an interesting and amusing speech in two parts. After the first part, Martin introduced Mike Moore who gave his personal appreciated to the late Prof. Geoff Hewitt. Then Martin concluded his speech with a witty story about a business trip to Peru.
After the well-received speech, Martin Gough was presented with the balls of office from chairman David Norton (as past president Prof. Mueller-Steinhagen was unable to attend).
To see a selection of images taken at the event please have a look at our Gallery
The society's aims are to promote all aspects of heat transfer and associated equipment by enabling engineers, designers and researchers in any area of activity involving those aspects, to meet and discuss subjects of common interest.
The next Heat Transfer Society dinner will take place on Friday 27th March 2020.