CALGAVIN Escape from Cyber Q Rooms in Worcester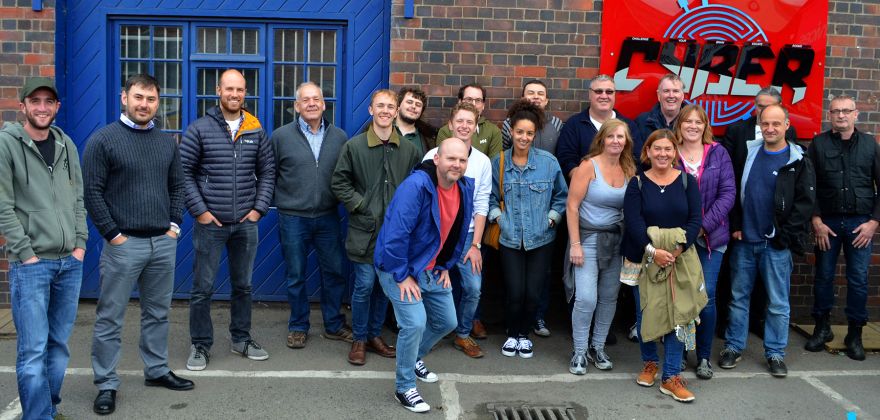 For a Team Building exercise, the CALGAVIN® staff from manufacturing, R&D, sales & marketing, engineering and HR & Finance were split up in random teams and challenged to 2 of the 4 rooms at Cyber Q in Worcester. Each room had a fiendish set of clues to answer, to escape the room, in the 1 hour limit.
The four rooms on offer were:
Operation Deluge - "Interpol receives a worrying call from a man called Noah. He tells them that the biggest dams in the world are wired with explosives. His reason? He wants to punish mankind however, he decided to give people a chance! He built an Ark and inside, there is a hidden way to deactivate the explosives. You are Interpol's agents. You get into the Ark and have 60 minutes to stop the countdown."
Alice in Wonderland - "Alice is a girl who loves to dream. She likes to tell amazing stories about weird places and uncommon characters, but no one listens to her or believes her. One day, Alice decided to prove to everyone that her stories are real but on her quest to do this, she went missing. Last time parents saw her, she went to sleep as normal in her bedroom but by the morning, she was missing!"
Crazy Scientist II: Project BIOwolf - "BIOwolf is a top secret military project which was set up to formulate an injection which creates super soldiers. You have been kidnapped by Professor Henry and he wants to continue his experiment on his new subjects."
Mysterious Castle - "You are on vacation with your family and friends in a lovely log cabin, tucked away deep in the forest. You are miles away from the nearest soul. Events suddenly turn sinister and you come across a light in the distance.. A Mysterious Castle awaits. Decode the clues, solve the puzzles and escape before the Countess awakes."
The teams succeeded in escaping most of the rooms but Operation Deluge was one that we did not succeed in escaping!.
The games did teach that teamwork was important to make sure the team escaped each room within the 1 hour time limit.