Event Report - Heat Exchange Engineering 2017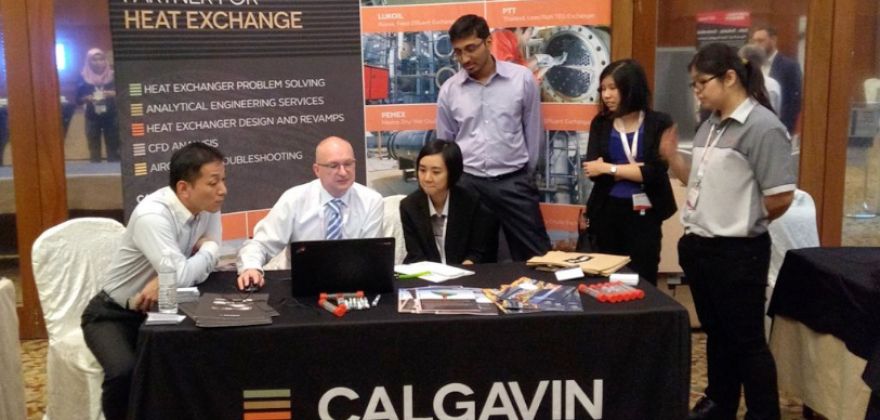 The 2017 edition of the Heat Exchange Engineering conference took place in Kuala Lumpar, Malaysia in late October, with CALGAVIN® involved as Gold Sponsors. This included an exhibition stand and conference presentation from Peter Ellerby (Engineering Manager) on the topic of "Ethylene Plant bottleneck removed by overcoming vaporiser limitations"
The focus of the event was on improving the performance of industrial heat exchangers by increasing throughput, lowering energy use, reducing downtime, increasing reliability and lowering environmental emissions.
The conference brought together a range of technical practitioners including design engineers, energy efficiency managers, plant engineers, maintenance specialists, equipment suppliers, service providers and researchers.
With keynote addresses, technology presentations, real-life case studies, practical discussion and a wide range of collaborative and networking opportunities, the event was a great opportunity to listen and interact with some of the leading thinkers and practitioners in the field of Heat Exchange Engineering.
As Todd Vincent (Project Engineer, Jord International) commented after the event "Two days and three potential solutions to issues we did not have prior to the conference, including great access to key personnel and industry experts. The benefits from this event will be reaped for years to come"
Tom Higley (Technical Sales Manager, CALGAVIN), commented: "I thought that the event was a much needed and focussed conference and exhibition that addressed a key element of processing which is heat transfer."
"The Kuala Lumper event showcased constructive and influential discussions had between heat transfer experts in the field, giving a great opportunity for the average process engineer to have their questions answered on heat transfer problems and processing."
CALGAVIN is looking forward to the event growing and moving to other locations throughout the globe in the future.