Latest Global Industry Projects Fulfilled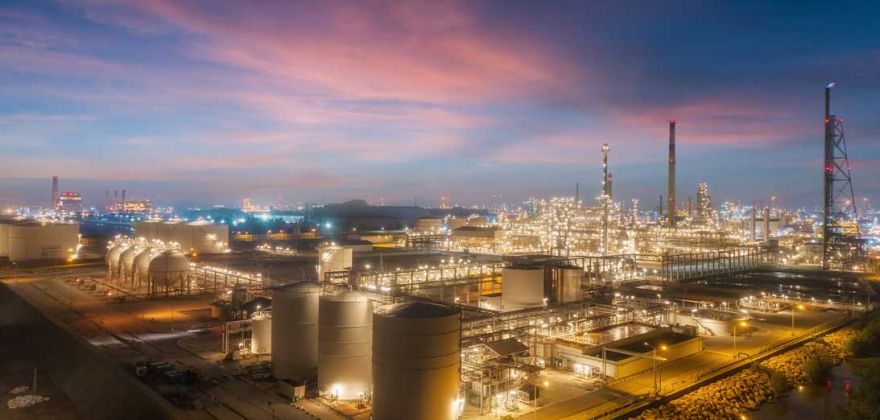 We have been heavily involved, over the last year, with global projects in the processing industries, with order wins for projects in the Middle East, Asia & Europe. These orders are being fulfilled mainly using our designed and manufactured hiTRAN® Thermal Systems turbulators.
These orders have been won, in part due to our engineering capabilities, which include engineering design, process analysis, study for retrofit and revamp and flow studies including thermal Computational Fluid Dynamics (CFD).
The outlines below show just some of the projects we have been involved with over the past year
Fadhili Project, Saudi Arabia
The new Fadhili Gas Plant will be built approximately 30 km southwest of the existing Khursaniyah Gas Plant. Scheduled to be completed by the end of 2019, the Fadhili gas project will become a key component of the Kingdom's master gas system, processing gas from both onshore and offshore fields.
Together, with Wasit and Midyan, Saudi Aramco's two other new major gas projects; Fadhili will add more than 5 billion Standard Cubic Feet per Day (SCFD) of non-associated gas processing capacity. The increase in the supply of natural gas will grow above 17 billion SCFD by 2020.
CALGAVIN® are installing hiTRAN Thermal Systems turbulators into a performance heater.
Yibal Khuff Project, Oman
This project is a new development 350km southwest of Muscat, in Oman, for Petroleum Development Oman (PDO) with Petrofac being awarded an engineering and procurement contract.
It is expected that development of Yibal Khuff will add to PDO's future oil production whilst the associated gas will be utilised for power generation and enhanced oil recovery developments.
CALGAVIN are installing hiTRAN Thermal Systems turbulators in a compressor lube oil air cooler.
Burgos Project, Spain
This project for Adisseo, at its Burgos, Spain facility, is to increase its production of liquid methionine. This takes place by removing sulfur dioxide from oxidation oven fumes and then turning it into a reusable intermediate product used in the manufacturing of Methionine.
The success of Rhodimet AT88 in recent years (up 50 per cent since 2013) has fostered the need to accelerate the capacity extension project in Spain.
Adding a third production line in Burgos will increase the site competitiveness in many aspects, making it one of the best of its kind in the industry. Adisseo is also implementing an investment program to upgrade its upstream facility of Les Roches, France, in order to sustain the development of the Burgos site.
CALGAVIN are installing twisted tape turbulators in the AT88 Shell & Tube final cooler.
MG3 Project, Malaysia
This is a replacement set of hiTRAN Thermal Systems turbulators, originally ordered for supply in 2007. CALGAVIN directly dealt with Petronas
This is a project to create a range of superior quality Group III base oils. Produced at the Melaka Group III plant (MG3), ETRO is used in PETRONAS' own finished lubricant products as well as marketed to other leading lubricant makers worldwide. With this new capability, PETRONAS joins a handful of speciality base oil producers from Asia, Europe and North America in producing Group III base oils.
Group III base oils are used in most top-tier synthetic engine oils. Known to boost engine performance, they are excellent choices for the formulation of high performance engine oil as well as for compressor and hydraulic oil formulations. Group III base oils also have the added value of producing less harmful emissions and waste.
CALGAVIN are installing hiTRAN Thermal Systems turbulators in the lube oil air cooler.
Wheatstone Project, Australia
In late 2011, Chevron Australia began construction of the $29 billion Wheatstone Project, located 12 kilometres west of Onslow on the Pilbara coast of Western Australia.
The foundation project will consist of two LNG trains with a combined capacity of 8.9 million tonnes per annum (MTPA), plus a 200 terajoule per day domestic gas plant.
The project has the approval to expand to 25 MTPA of LNG, with the first LNG expected in 2016
CALGAVIN are installing twisted tape inserts into one of the LNG Vaporizers.
Banagas Expansion Project, Bahrain
This project is to build an additional Gas Processing train, with a capacity of 350 MMSCFD to process the additional associated gas available in the Bahrain oil field and to recompress and re-inject residue gas black into the reservoir together with the installation of addition transport pipelines, land reclamation at the Sitra Storage Area and installation of two additional storage tanks, 200,000 bbls for propane and 100,000 bbls for Butane.
CALGAVIN are installing hiTRAN Thermal Systems into one of the lube oil air coolers.
Tengiz Expansion Project, Kazakhstan
This is an element of the Future Growth Project—Wellhead Pressure Management Project. The joint venture (Fluor, Kazakh Institute of Oil and Gas JSC, Engineering Company KAZGIPRONEFTETRANS LLP, and WorleyParsons) is working as part of an integrated team on the expansion of the Tengiz oil field in western Kazakhstan.
The Future Growth Project will use sour gas injection technology, successfully proven during TCO's expansion project in 2008, to maximize Tengiz production capacity to approximately 39 million tons-of-oil-per-year. While the Future Growth Project will increase production, the Wellhead Pressure Management Project will keep the existing Tengiz plants full by lowering the flowing wellhead pressure and boosting the pressure to Tengiz's six processing trains.
CALGAVIN are installing hiTRAN Thermal Systems in a lube oil air cooler.
Ahmadi Depot Expansion & Revamp Project, Kuwait
The project includes the construction and commissioning of 11 new floating roof product tanks with a capacity of approximately 228,000m3.
It involves replacement of depot automation systems (TAS), integration to the new tank gauging system, upgrading of existing Vapour Recovery Unit (VRU), Cathodic Protection System with remote monitoring, fire protection system and all utility packages.
CALGAVIN are installing hiTRAN Thermal Systems in a lube oil cooler.
Wangnoi Compressor Station Project, Thailand
The work is for a gas compressor station located in WangNoi, Ayutthaya 70km north of Bangkok, Thailand.
The project which uses Gas Turbine Driven Compressors with Shaft Power of 16MW will provide additional capacities of 800 MMSCFD gas for the city of Bangkok. The project is expected to be completed in 2018. The scope of the work also includes Gas Turbine Driven Compressor Trains, Inlet Filter Separators, Ground Flare & Vent Stack as well as Gas Cooler, Packages and Utilities and Substation.
CALGAVIN are installing hiTRAN Thermal Systems in a lube oil air cooler.